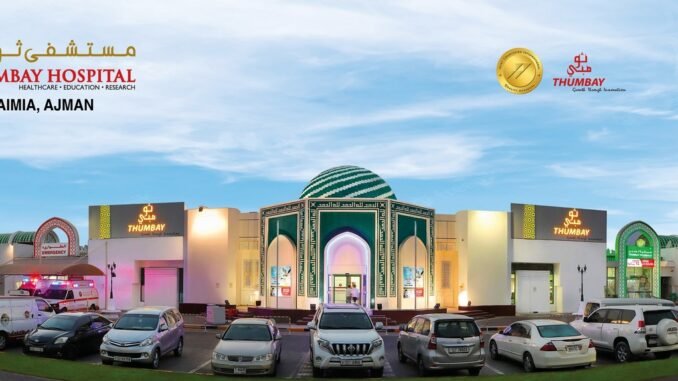 Thumbay Hospital Ajman
Phone: +971 6 7463333
Fax: +971 6 7464444
E-mail: thajman@thumbayhospital.ae
For Emergency, call: +971 6 7119108
Dr. Padma Vasanth Kumar Shetty
MBBS, DGO and Family Welfare, MRCEM
General Practitioner (HOD)
Accident & Emergency
Dr. Umedjon Murodov
Specialist B
Accident & Emergency
Dr. Arun Kumar Muthu Subramanian
Specialist
Anesthesiology
M.B.B.S(1995) Dr MGR Medical University, Tamilnadu,
M. D [Anaesthesiology] Bharkathullah University, Bhopal. Completed In 1999
15 Years of Post M.D Experience
Dr. Ravindra Rupchand Barve
MBBS
Post Graduation – MD Anaesthesia
Specialist
Anesthesiology
Dr. Mubarack Valiyakath
Specialist
Cardiology
Dr. Marly Mathan
BDS
Dental Surgeon
Dental Centre
Dr. Nanees Ibrahim Abdel Hamid El Sukka
BDS
Dental Surgeon
Dental Centre
Dr. Sangeeth Radhakrishnan
BDS, PG Diploma Oral Implantology, MDS
Specialist – Pedodontics
Dental Centre
Thumbay Hospital Ajman Doctor List
Dr. Ashish Sam Enos
MBBS, MS, FMAS, DMAS
General Surgeon
Surgery
Dr. Asim Rafiq Laharwal
Specialist
Surgery
Dr. Kiran Kumar
MBBS, MD
Specialist (Asstt. HOD)
Internal Medicine
Dr. Mais M Mauwfak
Specialist
Internal Medicine
M.B.Ch.B
MRCP/UK
GradDipHPE
Dr. Neha Sarvesh Juneja
MBBS, M.D
Specialist
Internal Medicine
Dr. Rajashree Ganesh
MBBS, MD – Internal Medicine
Specialist
Internal Medicine
Dr. Mawahib Abd Salman Al Biate
MBBS, Arab Board, MRCOG Part 1
Consultant
Obstetrics & Gynecology
Dr. Amal Hassan Abddelaziz
Specialist
Obstetrics & Gynecology
Dr. Kasturi Anil Mummigatti
Specialist
Obstetrics & Gynecology
Dr. Prashanth Hegde
Specialist & Clinical Associate Professor
Obstetrics & Gynecology at Thumbay Hospital Ajman
Dr. Shameema Asif Muhammed
Specialist
Obstetrics & Gynecology
Dr. Shanthi Therese Fernandes
Specialist
Obstetrics & Gynecology
Dr. Wajiha Ajmal
Specialist
Obstetrics & Gynecology
MBBS from khyber medical college Peshawar, Pakistan
FCPS (OBG) 2005 Pakistan
Diploma in Medical Education Gulf medical university, Ajman
Dr. Zulekha Banu
MBBS, DGO, M.D – OBG
Specialist
Obstetrics & Gynecology
Dr. Mujeeb Mahammad Shaik
Adjunct Clinical Assistant Professor and Consultant
Orthopedic Surgery
Dr. Amit Chaturvedi
MBBS, MS, DNB (Ortho), MNAMS
Specialist
Orthopedic Surgery
Prof. Hossam Hamdy
Consultant
Pediatric Surgery
MBChB, D.S, Doctorate of Surgery (DM), Alexandria University
FRCS (Edinburgh), FRCS (England), FRCP "England"
PhD (Med Education, Groningen, Netherlands)
Dr. Fatma Gad Abdul Rahim
Specialist
Pediatrics & Neonatology
Dr. Shemeena Valiyat
Specialist
Pediatrics & Neonatology
Dr. Arundeep Arora
MBBS, DNB, MD Radiology
Specialist (HOD)
Radiology
Dr. Smita Ravindra Barve
General Practitioner
Radiology
Diploma in Radiology
Dr. Ihsan Ullah Khan
MBBS, MRCS, MS Urology
Specialist (Incharge)
Urology at Thumbay Hospital Ajman
Dr. Satyabrata Garanayak
Specialist
Urology
MBBS, MS, DNB(Urology)
Dr. Tambi Abraham Cherian
Specialist
ENT
Medical degree : M.B.B.S. [C.M.C. Vellore, India]
Post Graduation: DLO, MS [C.M.C. Vellore, India], DNB [National Board]
Speciality: Otorhinolaryngology Head and Neck Surgery.
Experience: 21 years of experience in Medical Colleges.
Dr. Mohamed Ahmed Elshobary
MBBCH, Dip of Tropical Medicine & GIT diseases, Mas in Tropical Medicine & GIT
Specialist
Gastroenterology
How to book an appointment at thumbay hospital ajman?
Phone: +971 6 7463333
Fax: +971 6 7464444
E-mail: thajman@thumbayhospital.ae
For Emergency, call: +971 6 7119108
Who is the owner of Thumbay Hospital?
Thumbay Hospital is owned by Thumbay Group. Thumbay Group is a diversified international business conglomerate based in the United Arab Emirates (UAE). The group was founded by Dr. Thumbay Moideen, who is the founder and president of Thumbay Group. However, please note that ownership or management structures can change over time, so it's always a good idea to verify the latest information from reliable sources or the official website of Thumbay Hospital.
(Visited 1 times, 1 visits today)